Current Version: 0.3.6.1-signed.1-signed
Last Updated: 09/11/2013
Average Daily Users: 56
Total Downloads: 35,565
Paste Quote is a Firefox Add-on that is designed for old phpBB / vBulletin style web forums, to help to quote individual sentences a little bit faster.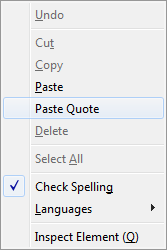 When you paste using Paste Quote, it simply surrounds the text you're pasting with [quote] and [/quote]; the BBCode markup for a block quote.
This Add-on has largely been superceded by technologies moving towards Markdown but I maintain it for the people out there that still have a use for it.
How does it work?
Just install it and restart Firefox. You will get a new right click menu option to Paste Quote whenever you right click inside a text field and have previously copied some text.
Screenshots
The result of Paste Quote: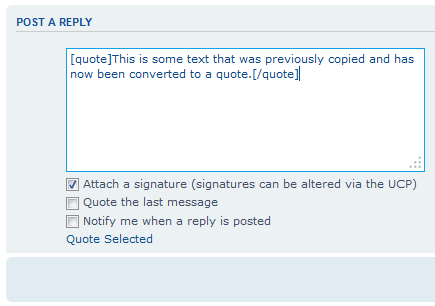 Changelog
Paste Quote 0.3.6 - 09/11/2013

Firefox 4.0 compatibility.