Current Version: 0.6.18
Last Updated: 29/11/2015
Average Daily Users: 8,256
Total Downloads: 1,324,890
Image Toolbar is a Firefox Add-on that clones an Internet Explorer 6 feature, providing a quick, easy shortcut to a handful of image functions.

I originally developed Image Toolbar to help users when migrating from Internet Explorer to Firefox as some deemed this to be a critical missing feature. Later versions of Internet Explorer removed this functionality, but the Firefox Add-on lives on!
How does it work?
The toolbar is activated by hovering your mouse cursor over an image. It will be displayed (by default) in the top left hand corner of the image, and allows you to save the image or perform other functions.
What features are included?
Image Toolbar provides the following buttons…
Save - Brings up a save dialog.
Copy - Copies both the image and its location, which you can then paste into another application.
Print - Launches a print preview.
Info - Shows information about the image.
Folder - Pops open your preferred image folder.
Ctrl-clicking or middle-clicking will activate the secondary button functions:
Save - Automatically saves to a preferred image folder.
Print - Prints directly, skipping the print preview.
Folder - Let's you choose a new image directory to save to.
Screenshots
Here's one of Image Toolbar in action…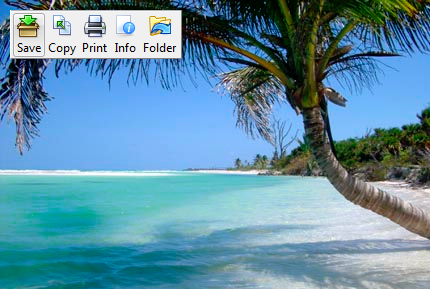 The lovely beach image is courtesy of Free Images.
Changelog
Image Toolbar 0.6.17 - 29/11/2015

Updated to work with Firefox 43.
Image Toolbar 0.6.16 - 18/10/2014

Fixed to work with Firefox 34 beta and above.
Image Toolbar 0.6.15 - 13/02/2014

Fixed to work with Firefox 27 and above.
Image Toolbar 0.6.14 - 25/11/2013

Improve toolbar appearance.
Fix height issues in settings window.
Image Toolbar 0.6.13 - 09/11/2013

Fixed to work with Firefox 23 and above.
Image Toolbar 0.6.12 - 09/11/2013

Compatibility with Status 4 Evar.
Prevent websites from changing toolbar with (actual fix).
Default the filename if not present.
Fix a few minor cases where bad filenames would be suggested.